Student Ministry
Summer Trips
Camp: June 12 - 15
SOAR: June 29 - July 1
Mission Trip: August 1 - 5
Hang Outs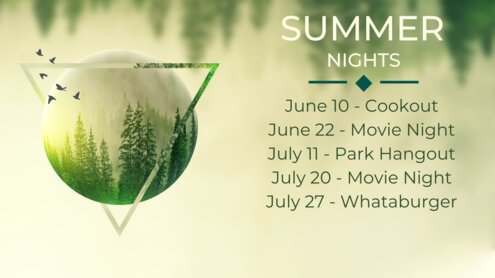 PURPOSE
The Farley Street Student Ministry is 6th grade through 12th grade.
We want to engage students, connect them with other believers in order to help them grow in their faith, and challenge them to discover ministry in a way that glorifies Christ.
STUDENT TIMES
LIFE GROUPS
Sunday, 9:15 am
Student Center (off 2nd floor Mezzanine)
STUDENT SERVICE
Wednesday, 5:30-7:30 pm
Student Center (off 2nd floor Mezzanine)
5:30 - 6:00: Fellowship
6:00 - 6:30: Welcome/Game/Worship
6:30 - 7:00: Message
7:00 - 7:30: Small groups
Vision
Our vision is to be a place where you have a friend. We believe that friendship is at the heart of what we are trying to become: a community of friends who are committed to Jesus Christ.
Mission
Our mission is to bring students into a supreme friendship with Jesus Christ, His family, and befriend the unchurched for the glory of God.
Strategy
Our strategy is to meet students weekly as we practice community and become more committed to the mission of Jesus. Adult leaders connect with new students every week in order to connect them with Jesus and other students. Students are encouraged to serve the church through missions and other ministry teams. Our midweek service is for students to come together on Wednesday night from 5:30pm - 7:30pm. We want to provide and implement a fun environment with biblical teaching and small groups.